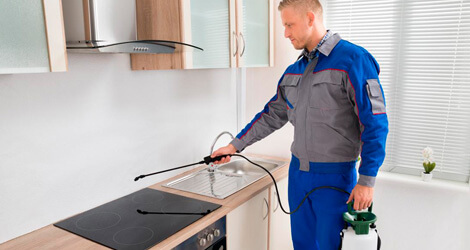 Is your home infested with bed bugs? Do you wake up having rashes on your body? If yes, then you might be facing a bed bug infestation. These pests are rarely visible with a naked eye and are quite harmful to humans. They reside in the bedding, wall cracks, switch sockets, furniture and every other accessible corner in a room. Bed bugs are responsible for causing severe infections and allergies.
At Milton Pest, we are a premiere pest control company that offers unbeatable and long term bed bug extermination services in Milton. Our team of professionals has years of expertise in eliminating pests from both residential and commercial properties. We use high quality products & environment friendly methods to ensure a bed bug free premise.
Signs of Bed Bug Infestation
Unlike all other pests, there is no need to inspect a property to ensure a bug infestation. If you are frequently waking up with rashes, bite marks and itches all over your body, it's a sure sign that you are facing a bed bug attack. Some other signs of infestation include:
Dried blood stains on bed sheets or pillowcases.
Pungent odor emitted from the scent gland of bugs.
Bed bug droppings on mattresses, clothes & floor.
Skin sheds or egg cases in the wall crevices/cracks
Milton Pest provides effective and long lasting techniques to kill and prevent bugs. Our expert pest controllers are fully trained to control these harmful pests using bed bug heat treatment method in Milton. Our company is both licensed and insured and strive to deliver 100% customer satisfaction for all bed bug removal and control services.
What Makes Us Different From Others?
We have been serving both residents and business owners in Milton for the past many years. Being fully knowledgeable to the latest techniques, we specialize in bed bug extermination.
We provide follow up treatments and strive to achieve 100% customer satisfaction. Our team of bed bug exterminators in Milton is dedicated to deliver exceptional customer service.
We implement safe, humane and eco-friendly bed bug control techniques to make sure that your family and pets remain safe from any health and environmental effects.