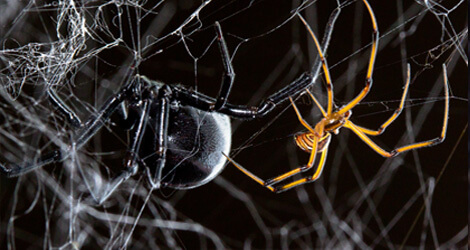 Spiders are annoying pests that are world widely found crawling over the roofs and trees. They are more active during the springs and summers. Roofs, attics and basements are their common place of invasion. They are extremely tiny creatures that often goes unnoticed due to their size. Unlike rats and bugs, spiders don't live in shallow holes or nests, instead they weave a web as their home. Having spiders in your premise throws a look of a shabby or cluttered property.
At Milton Pest, we are a team of Milton pest control experts who are dedicated to eliminate pesky pests from a property. We have years of experience in the industry and are constantly delivering effective spider extermination services to both residential and commercial properties in Milton. We are equipped with modern tools and follow the latest techniques to remove spiders from a property.
Effective & Long Term Spider Control
Spider infestation may turn out to be annoying or disturbing for those facing it. Our spider removal experts in Milton are well aware of the frustration you are going through right now and are always ready to ease your troubles by providing quick and effective spider control. Being your local service provider, our professionals can reach you within the shortest possible time. Here are some spider species we deal with:
Black Widow Spiders
Brown Recluse Spiders
Household Spiders
Cellar Spiders
Wolf Spiders
Jumping Spiders
Why Count On Us?
Spiders can invade any corner of your home or office. If your property is facing a massive spider invasion, then you can notice their web everywhere like under or inside the appliances, in the corners, on the roof and many other places. To deal with this issue, professionals at Milton Pest are always ready. We make use of high quality products that ensure that these pesky spiders remain away from your property. Customer satisfaction is the key to our reputation and we strive to achieve it at every cost. Our company provides best-in-class Milton spider extermination services at competitive prices.